The second School of Creative Arts Alumni showcase
UH Arts is excited to launch the second showcase of works produced by alumni from the School of Creative Arts, University of Hertfordshire. This digital exhibition brings together some of the finest alumni from the School, including product and interior designers, architects, model makers and fashion designers, who have built successful careers within their respective fields.
---
Discover the Designers:
---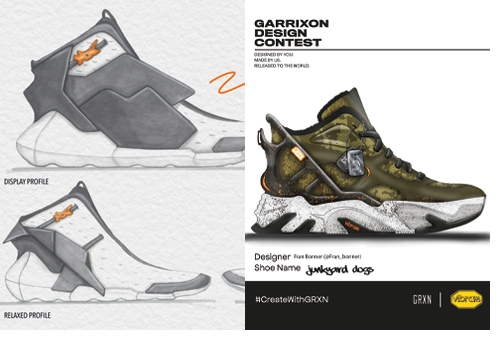 Francesca Bonner
Asics X Pensole in Association with Footlocker footwear competition entry, 2019
Marker Pen Rendering
Junkyard Dog Sneakers, 2020
Illustrator & Photoshop
Asics X Pensole in Association with Footlocker footwear competition entry, 2019
Pencil Sketch
Francesca Bonner attained a BA(Hons) in Product Design from the University of Hertfordshire in 2014. She is also an alumna of Pensole Footwear Design Academy, US, and now works as a headwear designer for New Era Cap Europe.
Bonner uses fashion and footwear as a way of expressing herself. She aims to create products which allow people to express themselves without the need for words. Trainers are her passion – she is inspired by what a pair of sneakers can tell you about their wearer; from their jobs, influences, passions, even hopes and aspirations. All while being fully functioning so that people can go about their lives. Bonner's interests include streetwear fashion, curating customised clothing and footwear to create unique outfits as well as street artwork and the pure emotion derived from the art.
www.francescabonner.com
@fran_bonner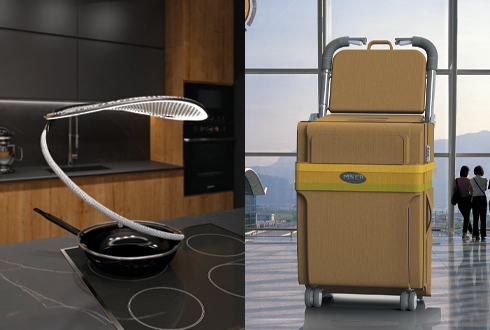 Radoslav Bozhinov
Odour Transformer, 2012
Photoshop
Winner in The Electrolux 'work in progress' Pinterest competition
Mobiler, 2013
Photoshop
Triobag, 2021
rPET Fabric from recycled bottles
Nominated 'Design which is likely to win a Design Award'
While studying at the University of Hertfordshire, Radoslav Bozhninov freelanced for several different web and graphic design companies, one of which he continued to work for after graduating with an MA in Product and Industrial Design in 2013.
Bozhinov is now working for one of the largest luggage manufacturers in the UK. He is involved in creating designs for various items of soft luggage, suitcases and backpacks. His passion for design has driven him to study User Experience to truly understand the users and enable him to deliver a meaningful experience through his design work. Bozhinov's interest in UX has now lead him to work on crowd-funding one of his own projects: Triobags – an urban multifunctional backpack which allows the user to carry work items, exercise gear and food in three bags which can be stylishly combined into one or reconfigured and separated according to the user's changing needs.
radoslav-bozhinov.com
triobags.com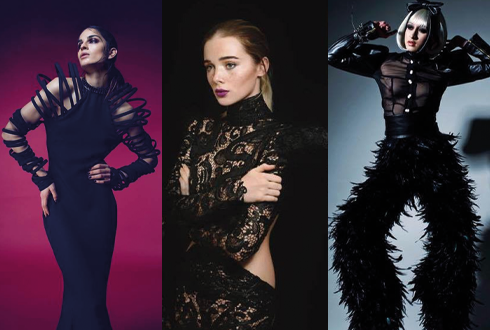 Gabriella Gambetta
Anatomy collection, Slinky, 2013
Leathers, guipure laces, feathers and chiffons
Anatomy collection, Morticia Dress, 2014
Leathers, guipure laces, feathers and chiffons
Anatomy collection, Cameo Shirt, 2013
Leathers, guipure laces, feathers and chiffons
After graduating from the University of Hertfordshire with BA(Hons) in Fashion Design in 2009, Gabriella Gambetta has continued designing garments. Her Anatomy Collection was inspired by muscular and skeletal structures, and took influence from Gunther Von Hagens' Body World exhibition. Gambetta's designs have featured in music videos, and her collection was worn by burlesque star Chrys Columbine. Gambetta's work garnered attention when several of her pieces were worn on BBC's All Together Now.
Gambetta has worked at Gabriella Rose London on womenswear and also designing the first menswear range for the company. She has also co-founded Ruby and Pearl Vintage which has been going for 10 years. Their work has been featured on TV and fashion shoots. Gambetta is now working on her latest venture, Manic Rave Vintage, which was borne during the second lockdown in 2020. She fell in love with reworking vintage clothing, hand embroidering and creating custom pieces inspired by times gone by. Gambetta also makes clay jewellery and is currently starting a print collection.
manicravevintage.weebly.com
@manicravevintage
@manic_rave_vintage
@RubyAndPearlVintage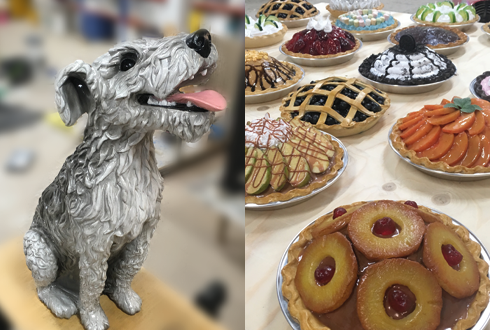 Anna Garside
Dog sculpture, Made for Cath Kidston Shop Windows, 2019
Made at Marcus Hall Props
Fake pies for The Waitress Musical, 2019
Made at Marcus Hall Props
Portrait from Life, 2019
Sculpted during a sculpting workshop at Florence Academy of Art
When graduating with BA(Hons) in Model Design from The University of Hertfordshire in 2010, Anna Garside wanted to make use of her skills in Character Creation and Technical Effects. She was lucky enough to do a second-year work placement at Madame Tussauds, where she learned about moulding and casting in a busy workshop. This opportunity formed the basis of her professional career as a prop maker. After finishing her degree, Madame Tussauds offered Garside a job, where she stayed for three years.
After moving on from Tussauds, Garside landed her first job in the Theatre industry, and she has been freelancing ever since. The fast pace of the job, the mix of working in busy workshops and backstage on shows are elements she most enjoys. Her freelance work also includes painting artwork in restaurants and making private commissions for boutique hotels and private clients.
annagarside.co.uk
@annagarsidepropmaker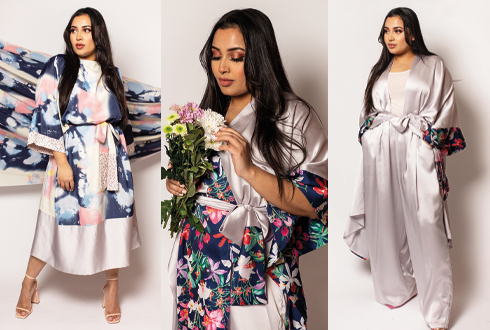 Louisa Harris
Batwing shift dress, 2021
Como bloom crepe de chine with a deep oyster hem and blush polka sleeve trim
Midi Mono Wrap Dress, 2021
Oyster satin trimmed with navy tropical satin
Two piece set in mono wrap top and palazzo pants, 2021
Oyster satin with a satin navy tropical trim
Louisa Harris graduated from the University of Hertfordshire with BA(Hons) in Fashion Design in 2012. She began her career in visual merchandising for House of Fraser which then led her to a year working in Dubai as a Visual Merchandising Manager for Victoria's Secret.
Harris went on to work in nursing recruitment for five years and launched Donald Stanley in 2015 alongside her job. The business grew over time and by 2019 she left her full-time job to pursue her dream. Named after her dad, the brand is completely inclusive; providing comfort and style for all sizes and people. Donald Stanley is worn by many body positive influencers, and has been featured in magazines, newspapers and TV shows such as The Voice.
www.donaldstanley.co.uk
@donald_stanley_
@DonaldStanleyUK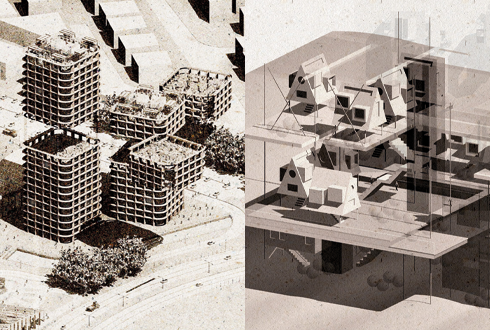 James J Igbafe
Urban Utopia - A New Archetype, 2020
A Post Pandemic Exodus from Cities, 2021
James J Igbafe graduated with a BA(Hons) in Architecture & Interior Design from the University of Hertfordshire in 2017, where he was also awarded Student of the Year for the School of Creative Arts. He is an experienced Architectural Designer with aspirations to qualify as a Chartered RIBA/ARB Architect in the future.
In 2018, Igbafe was appointed as Lead Technical Coordinator and Project Manager overseeing a £2.4m penthouse project in Shoreditch. His portfolio ranges from small scale private residences to large-scale mixed-use development schemes across London. Igbafe's recent work titled 'Post Pandemic Exodus from Cities' re-imagines the suburbs as a means of escapism from the distaste of city living. He has exhibited at The Old Truman Library and recently launched his own Architectural & Interior Design Studio.
Igbafe is currently furthering his training on the M.Arch (Masters of Architecture) Course at the University of Hertfordshire.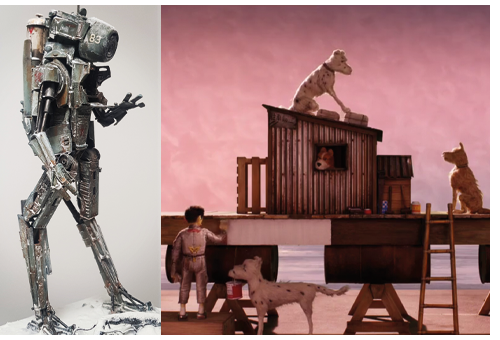 Peter Le Pard
Soviet Mech, 2019
Scratch built and painted miniature
Constructing the raft, Isle of Dogs - Wes Anderson, 2018
Painting and finishing props and Environment
Ataris Junior Turbo Prop aircraft crashed in crater, Isle of Dogs - Wes Anderson, 2018
Painting and finishing props and Environment
Kobyashi Animal Testing Plant Ruins, Isle of Dogs - Wes Anderson, 2018
Painting and finishing of props and environment
Peter Le Pard began work at a prop-making workshop after graduating from the University of Hertfordshire with a BA(Hons) in Model Design in 2010. Whilst working for several prop-making companies Le Pard mainly worked on finishing props and set pieces for films including, Hugo, Tim Burton's Dark Shadows, Prometheus and many more. He went on to be hired in the paint department for the production of Wes Anderson's Isle of Dogs. This stop-motion film was a significant learning experience and helped him to hone his painting and finishing skills for the 3 years he worked on the film.
Le Pard's experience in the painting and finishing department provided many transferable skills in costume, prop and set decoration finishing. He has since worked on several Film and TV projects, including Wonder Woman 1984, Cats, Artemis Fowl, Marvel's Eternals, Doctor Strange 2, Fast and the Furious 9, Cursed, Dark Crystal Age of Resistance and most recently Disney's The Little Mermaid Live action remake.
www.tarteart.com/pete-s-page
@planet_bazaar_toys
Alice Molloy
Gunter Grove London Living Room, 2019
Takeley Loft Conversion, 2020
Gunter Grove London Bathroom, 2019
Gunter Grove London Bedroom, 2019
After graduating from the University of Hertfordshire with a BA(Hons) in Interior and Architecture Design in 2013, Alice Molloy worked on a series of ambitious residential projects in the UK and overseas. She has now been running her own business, Alice Molloy Interiors, for over 6 years.
Molloy specialises in interior design; bringing together her extensive knowledge of architecture and joinery with an innovative creative flair. She combines professionalism with a personal touch, getting to know clients closely to create the spectacular spaces they love. Alice Molloy Interiors work on a range of projects from remodelling a single room through to full renovation or rebuild. She creates spaces which reflect who the client is, what they love and how they live. Building spaces which positively impact mental and physical health, and creating homes that bring excitement, comfort, joy and peace.
www.alicemolloyinteriors.com
@alice_molloy_interiors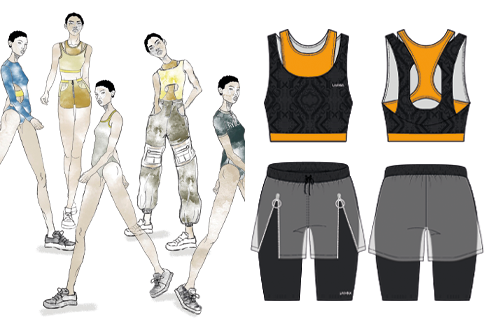 Lucy Randall
The Lavona Collection, 2020
Digital Drawing with Watercolour
Lavona's Athleisure Technical Designs, 2020
Vector Illustration
Exploration of Print in Swimwear, 2020
Digital Collage
Lucy Randall graduated with BA(Hons) in Fashion and Fashion Business from the University of Hertfordshire in the middle of a worldwide pandemic in July 2020. She has been on quite a journey to begin her career within the fashion industry. In November 2020, after a lot of hard work and dedication, Randall got a new position as a Buying Administration Assistant at clothing company Seasalt Cornwall. She thoroughly enjoys working for the brand and has really started to find her feet within the buying department. Randall hopes to continue to learn, enjoy and progress within Seasalt in the future.
Randall was inspired to design this versatile swim and athleisure brand of high-quality garments to the modern woman living life's adventure during her final year at University. Named Lavona, the brand and its clothing originates from the enjoyment of being outside in the natural environment and aims to encourage consumers to enjoy life whether that be inside or out.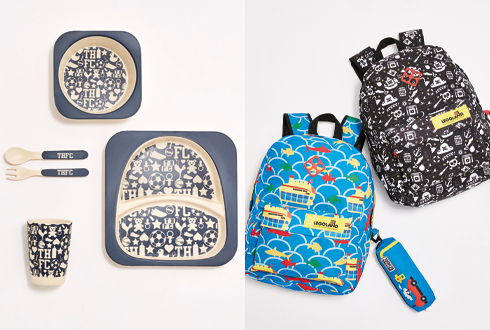 Tim Reading
Tottenham Hotspur Toddler Dinner Set, 2019
Bamboo
Legoland Luggage and Stationery, 2019
Fabric, Adobe Illustrator
Tim Reading has a passion to create things. With a BA(Hons) in Product Design and a Diploma in Graphic Design, he has an interest in all aspects of design and making the ordinary extraordinary.
Reading has worked with some established clients such a Legoland, Merlin Entertainment, Jaguar/Landrover and Manchester United to name a few. His passion for creating isn't just his work; he also spends his spare time working on conceptual ideas, upcycling items and working with and mentoring other creatives. Reading's other interests include fashion, collecting and customising sneakers, and wildlife and fashion photography.
www.timreadingdesign.com
@timreading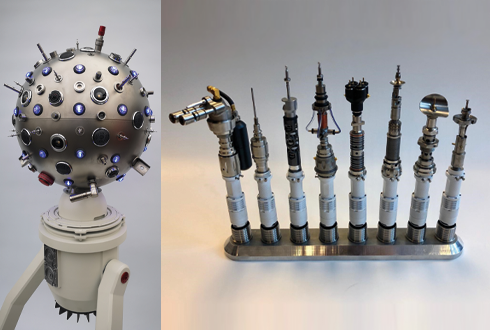 Albie Saunders
3D Scanner/Camera/Probe Model
Camera components, Metal, Controllable Lights
Futuristic Medical Tool Kit
Medical Tool Components
Robot
Miscut or Discontinued Medical Equipment
After graduating in 2019 with a BA(Hons) in Model Design from the University of Hertfordshire, Albie Saunders went on to work for Bobs Bits in Watford. Bobs Bit's is a well-established prop house that buys, rents and sells props throughout the Film & TV industry. Saunders works to repair used props but also creates and designs new props from a variety of materials to be used in feature films and TV series.
Saunders' work can be challenging as he must create props that can be used in many different ways for different productions. Many of his props are sci-fi inspired, such as futuristic medical tools, electronic microscopes, 3D scanners and ray guns.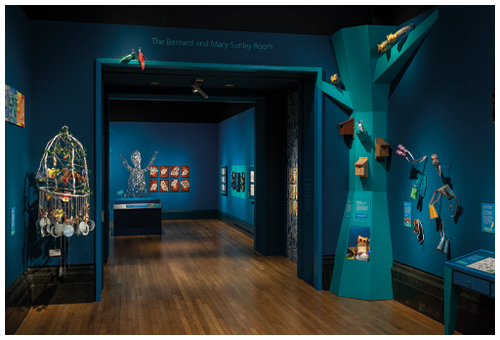 Nicola Smith
Take One Picture, 2019 © National Gallery, London
Artemisia, 2020 © National Gallery, London
Nicola Smith graduated with a BA(Hons) in Interior Architecture and Design in 2017. Her final Major Project concentrated on designing a Science Museum and it was this project, in addition to a smaller pop-up museum project for St Albans Museums, that she discovered a passion for experience design; more specifically exhibition and displays.
Smith now works at the National Gallery, London, as a 3D Designer. She has designed many exhibitions in addition to other 3D public facing projects such as bag search desks and First Aid Rooms. The work combines spatial design, showcase and wall design as well as colour and material specification. This is all achieved by close collaboration with the in-house graphic designers and the larger gallery teams. The work spans many different types of exhibitions – from the Renaissance through to contemporary living artists. Smith oversees projects from initial brief all the way to completion, supervising the exhibition builds and managing multiple contractors.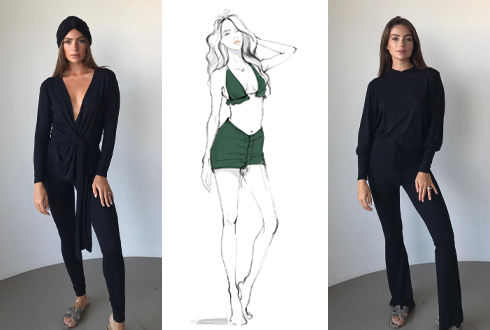 Annie Sophocleous
Wrap Set with Jersey Turban, 2020
Jersey
The Waikiki Set, 2021
Sketch
The Hoodie Set, 2020
Jersey
Rushy Jumpsuit, 2020
Sketch
Since graduating with BA(Hons) in Fashion Design from the University of Hertfordshire and winning the Ted Baker Designer of the Year at her graduate fashion show in 2017, Annie Sophocleous went on to work with Ted Baker. After gaining some fantastic experience, she launched her own fashion brand in 2020, specialising in Couture hand-made pieces such as tailored suits, bespoke dresses and unique pieces.
During lockdown, Sophocleous also launched a brand new loungewear range which has been a hit. She wants to empower wearers to look and feel their very best with each of her design pieces. These handmade jersey two-pieces and jumpsuits are comfortable yet stylish. The Sophocleous Brand are currently launching their summer pieces which include towelling silk and beautiful cotton eyelets.
www.sopho.co.uk
@handmade_sopho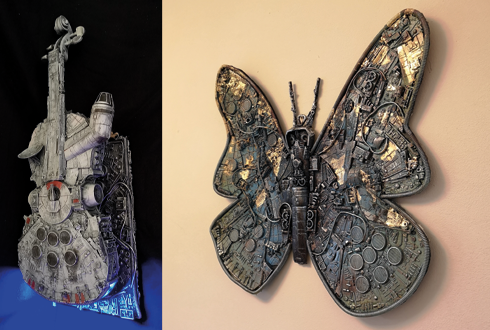 Richard Symons
Millennium Falcon Violin
Wood and resin with LED Lights
Cyber Butterfly
Resin and wood
Richard Symons has been working as an artist, sculptor and model maker since graduating from the University of Hertfordshire in 2003 with a BA(Hons) in Model Design. He has worked on numerous Film, Television and commercial projects ranging from major feature films Paddington 1&2, Judy and Emma to TV dramas such as Silk, The Halcyon and Edwin Drood, as well as commercials and new media broadcasts. Symons has taken on various roles throughout production including art director and model/prop maker.
Alongside his Film and TV work, Symons also creates bespoke artwork; taking part in art exhibitions and producing commissions for both private collectors and exhibitions. Selling most of his work through Etsy and Art Finder, Symons has developed a trademark cyberpunk style and frequently incorporates lights into his pieces.
richardsymonsart.com
@richardsymonsart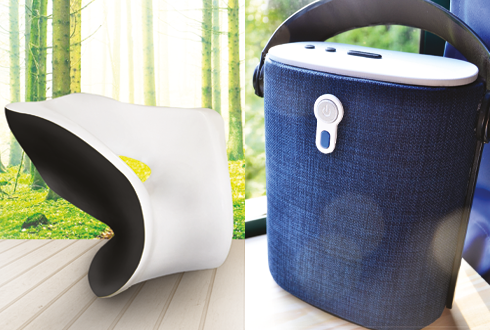 Teh Zi Chew
Curve, 2016
Adobe Photoshop
Monitor Audio, 2016
Presentation Model, Foam, Fabric, MDF, Faux Leather
Monitor Audio, 2016
Pencil Sketch
Teh Zi Chew graduated with a BA(Hons) in Product Design from the University of Hertfordshire in 2015. He then took on a designer role for a furniture company in Malaysia. He worked as part of a team developing furniture and homeware products, and was also given the chance to gain skills in new areas including product photography and interior showroom design.
Drawing on his variety of skills, Chew currently works as an independent part-time designer across a broad spectrum including graphic design, product design and interior design. Chew believes design is a journey of exploring and creating experiences with a real power to enhance the connection between the user and the product. His designs are innovative, seeking to find new alternatives to everyday products. Chew designs with time, money and environmental savings in mind with many of his products being inspired by nature and organic forms.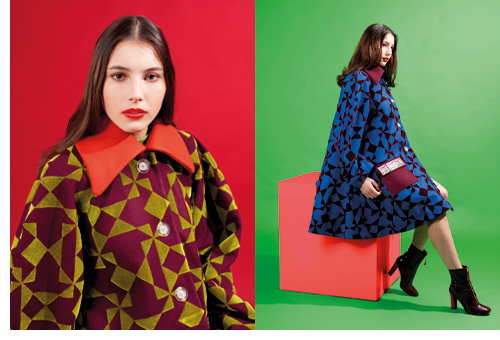 Beth Varty
Graduate Collection AW16/17
After graduating from the University of Hertfordshire in 2016 with a BA(Hons) in Fashion Design, Beth Varty went on to secure her first industry role with Apparel Dynamics (formerly Lionstar Manufacturing Ltd). The garment manufacturing facility is located in the Guangdong province of China and specialises in the production of high-quality bespoke garments for sportswear brands and businesses globally.
Varty has now gained over 4 years' experience as a Garment Design and Product Developer in the sportswear market demonstrating the ability to adapt to different cultures and surroundings which include working in China, Hong Kong, Australia, and Thailand. Her design work has enabled her to not only travel but collaborate with some of the biggest brands in the Apparel industry. Varty's most recent work has seen her join forces with Umbro, where her work has been showcased throughout various sporting events. Varty's diverse skillset, extensive knowledge and creativity have allowed her to cover the full design process from concept art and range development, through to technical specs, sampling and production.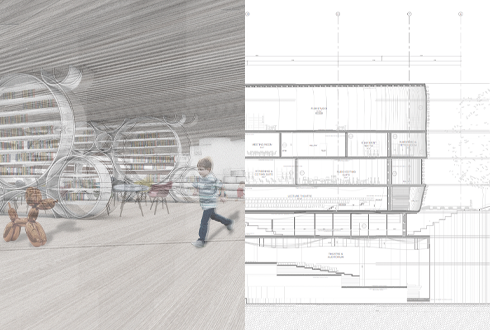 Anoop Virdi
Children's Library Visual, 2020
A Space of Apogee Front Section, 2020
A Space of Apogee South Elevation, 2020
Anoop Virdi graduated from the University of Hertfordshire with BA(Hons) in Architecture in 2020. Virdi's final major project was nominated for a Royal Institute of British Architects (RIBA) Bronze Medal and East Award in 2020. He currently works as an Architectural Assistant at London-based architecture firm Allford Hall Monaghan and is also a visiting lecturer at the University of Hertfordshire.
This work is from his final major project at the University; A Space of Apogee – a film school motivated by the legendary Stanley Kubrick's films and pioneering techniques. Inspired by the special effects and ambiguous imagery of Kubrick's 2001 A Space Odyssey, its design is based on shredded film reels. The building comprises theatres, libraries and studios. Sited in Borehamwood, A Space of Apogee aims to celebrate the town's rich history and culture of film-making whilst also regenerating this deprived area of Hertfordshire.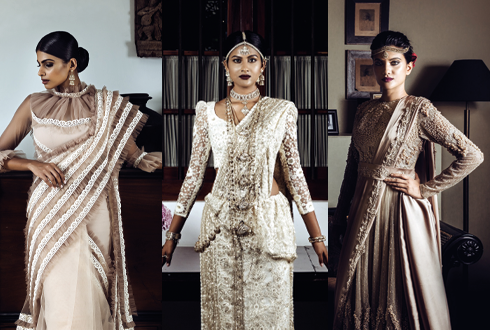 Indi Yapa Abeywardena
A Modern Madeup Saree Indian Style, 2019
Beeralu Lace (Bobbin Lace) worked on tulle
A Traditional Kandyan Bridal, 2019
Pure Silk, Beeralu Lace (Bobbin Lace), Bridal Satin, French Lace, Organza, Organic Cotton
A Modern Kandyan Bridal, 2019
Pure Silk, Beeralu Lace (Bobbin Lace), Bridal Satin, French Lace, Organza, Organic Cotton
A Sri Lanka Saree Bride, 2019
Pure Silk, Beeralu Lace (Bobbin Lace), Bridal Satin, French Lace, Organza, Organic Cotton
A Modern Madeup Saree Indian Style, 2019
Pure Silk, Beeralu Lace (Bobbin Lace), Bridal Satin, French Lace, Organza, Organic Cotton
Custom Bridal Sketch, 2020
Hand embroidered with thread and cut beads on a tulle net fabric base, embellished with sequins and crystals
Modern Sri Lankan Woman Fashion Collection, 2018
Pure Peace Silk, Bridal Satin, Handmade Beeralu (Bobbin Lace) and Organic Cotton
Indi Yapa Abeywardena graduated from the University of Hertfordshire with BA(Hons) in Fashion Design and went on to work at the Fashion Design Department of Henry Bertrand London – the UK's largest supplier of chiffon, organza, and pure silk fabrics to the fashion world.
Yapa Abeywardena then moved back to Sri Lanka, to work with MAS Sri Lanka, the Senior Designer for Victoria's Secret and Calvin Klein. She has since worked at Moratuwa University as Senior Lecturer of BA Fashion Design, and is a member of the Unilever Beauty Council, Women's Chamber of Commerce, and The Fashion Design Council of Sri Lanka. She was recently appointed as Director of Colombo Chamber of Commerce, due to her projects connecting local artisans with international buyers. Yapa Abeywardena is also the official partner in Women's Wear for the Nigel Barker Project in Sri Lanka.
Her latest achievement is winning the Outstanding Woman Entrepreneur of the Year SME Award from the Women in Management Awards and Slim Brand Excellence Resilience Awards 2020 for SME businesses that withstood the Covid-19 pandemic lockdowns and economic downturns. Yapa Abeywardena is the Creative Director of House of Indi where she has successfully established three ready-to-wear lines – INDI couture wear, IYA Bride and her diffusion line INDI DIVA.
www.houseofindi.com
@houseofindi.lk
Banner credits from left to right: Beth Varty, Tim Reading, James J Igbafe, Albie Saunders