UH Art Collection
The University of Hertfordshire Art Collection comprises 500 artworks displayed across its campuses. A wonderfully eclectic collection, it features 13 impressive external sculptures and a portfolio of paintings, prints, drawings, photographs, ceramics and mixed-media works.
The Collection has 3 key strands: (1) the historical strand, including works by artists such as Ben Nicholson, Barbara Hepworth and Reg Butler, (2) the contemporary artists strand - this group has been developed through UHArts' exhibition programme and membership of the Contemporary Art Society and includes works by Andy Goldsworthy and Alan Davie, (3) the student/staff strand, including works by Sam Jury and Diane MacLean.
The UH Art Collection is deliberately dispersed in publically accessible sites across the College Lane and de Havilland campuses, as well as Bio Park and Fielder Centre. It seeks to enhance the university environment by introducing modern and contemporary art in places where people study, work and visit. The collection offers fresh subjects and alternative perspectives that invite our community to think and question beyond their chosen disciplines.
Please visit our online database on eHive to get an overview of the Collection.
Visiting the Art Collection on foot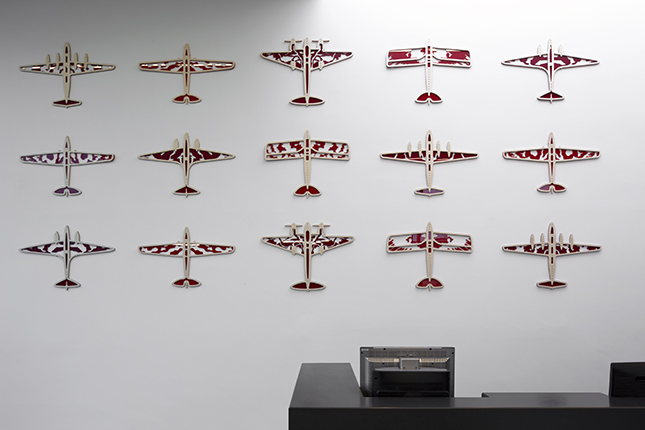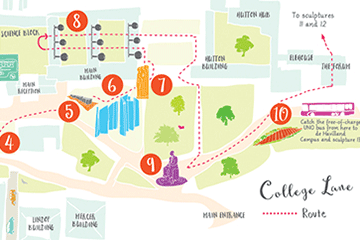 View an interactive map that shows how to visit the Art Collection Outdoor Sculpture Walk on foot (Please scroll over numbers to access information about sculptures).
UH Art Collection's Sculpture Walk and Map introduce the 13 outdoor sculptures, located principally on College Lane Campus. The Sculpture Walk presents an eclectic group of works which map the changing characteristics of British Sculpture since the 1950s. You will encounter an abstract stone sculpture by the iconic Barbara Hepworth, a bronze torso by Henry Moore's pupil John Farnham and a bespoke wall relief map by Trevor Tennant. The trail reveals Land Art by Andy Goldsworthy, as well as sound sculpture, interactive sculpture, assemblages and intervention into the landscape.
We hold monthly Sculpture Walks and other events and exhibitions around the Collection. At other times, tours can be arranged by contacting the UHArts team on +44 (0)1707 285395 or uharts@herts.ac.uk.