UH Arts + Culture and St Albans Museum + Gallery are delighted to present a solo exhibition by acclaimed artist Rana Begum.
Internationally renowned for her work that spans across sculpture, painting, and architecture, Rana Begum has become synonymous with exquisite colour relationships and visual perceptions of pattern. Working in a wide range of mediums, from the intimate to the monumental, Begum's practice focuses on the interplay between light and colour, shape and form. The artist's use of repetitive geometric patterns alongside her refined language of Minimalist abstraction, creates a spatial and visual experience.
In a much-anticipated return to her former home city, St Albans, this solo exhibition focuses on Begum's geometric works created over the past three years. Curated by University of Hertfordshire Arts + Culture, Ordered Form presents sculptures, paintings and screenprints, and also features newly created relief works and a panel painting installation, fabricated especially for this exhibition. Also displayed are Begum's studio experiments, maquettes and sketches which provide a fascinating insight into the artist's practice.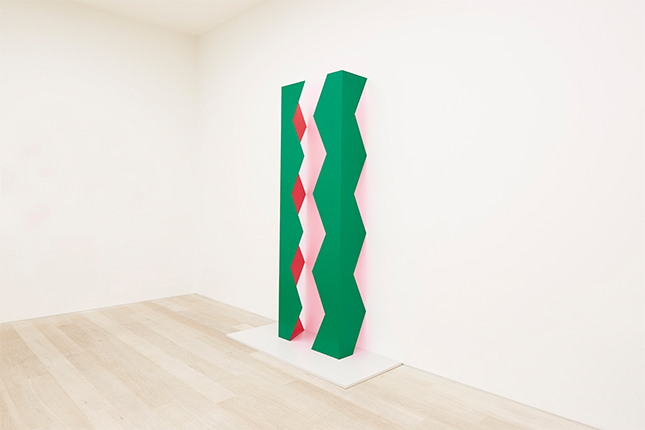 Rana Begum, No.1141 Zigzag, 2022 © Begum Studio. Photography by Maxwell Anderson
Rana Begum is influenced by the geometric abstraction of minimalism and constructivism and the work of artists such as Agnes Martin, Donald Judd, and Josef and Anni Albers. She works with industrial materials, such as stainless steel, aluminium, copper, glass and wood to make sculptures and reliefs that explore geometry, colour and light. The artist is inspired by the urban landscape and her childhood memories of the geometric patterns of traditional Islamic art and architecture.
"I have always found the feeling of repetition calming – bringing back memories of daily recitals of the Qur'an. I remember a feeling of tranquillity that accompanied these rhythmic recitations. This feeling has pulled me towards repetition and order, and the idea of the infinite."

– Rana Begum
To extend the exhibition in the underground Weston Gallery, Begum is also taking over the Museum + Gallery's historic Assembly Room upstairs. In January, the space will be filled by the artist's vast site-specific installation No. 670 (Mesh installation). Originally made for a 2016 exhibition at Parasol Unit in London, the installation was then acquired and moved to the Sainsbury Centre, Norwich, in 2017, from where it is being lent to the exhibition. Constructed from a series of coloured modular components, the work is site-specific and capable of expansion or contraction depending on the space in which it is reconfigured. The installation transforms the gallery space for the viewer and creates an immersive sensory and participatory environment.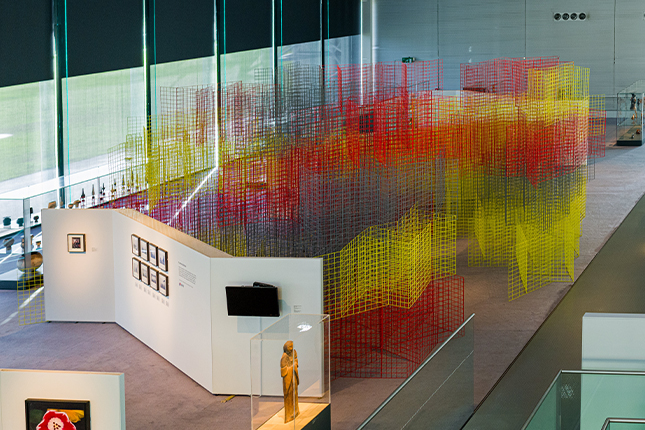 Rana Begum, No. 670 Mesh, 2016. At Sainsbury Centre. Photography by Andy Crouch
This kind of architectural intervention and the juxtaposition between the two vastly differing spaces is typical for Begum. The appreciation and understanding of architectural principles and the notion of space is rooted within the artist's practice. Begum creates pure, sharp and honed works that exude order and structure. Yet at the heart of it, there is a clear sense of exploration and playfulness in the ordered form.
Now living and working in London, Rana Begum grew up in St Albans where she moved to with her family from Bangladesh at the age of 8. The young artist studied her foundation course at University of Hertfordshire, which she has said had a pivotal impact on her in opening up ideas and disciplines. This solo exhibition poignantly brings Begum's work to her former home city and celebrates the success of an alumna of the University.
The exhibition is extended through a range of resources and events such as live workshops and artist talks. For more information, please visit www.stalbansmuseums.org.uk and @stalbansmuseums
Rana Begum: Ordered Form runs from 8 December 2023 to 14 April 2024 at the St Albans Museum + Gallery. Open daily 11am – 5pm. The vast mesh installation in the Assembly Room is available from 20 January to 17 March 2024.
---
About Rana Begum
Rana Begum (b1977 in Bangladesh) moved to Hertfordshire, England, in 1985. Begum received her BTEC Diploma in Foundation Studies in Art and Design from the University of Hertfordshire in 1996. She studied painting at the Chelsea College of Art and Design, University of London, graduating in 1999 and received an MA in Painting from the Slade School of Fine Art, London, in 2002.
Begum was elected a Royal Academician in 2020.
Begum's work has been internationally exhibited, with solo shows at the The Box, Plymouth (2023) Concrete, Dubai (2023) Pitzhanger Manor & Gallery, London (2022); Mead Gallery, Warwick Arts Centre, Coventry (2022); Tate St Ives, Cornwall (2018); Sainsbury Centre for Visual Arts, Norwich (2017), Djanogly Gallery, Nottingham (2018); Parasol Unit, London (2016); Dhaka Art Summit, Bangladesh (2014).
In 2017, Begum curated the Arts Council Collection in an exhibition at Yorkshire Sculpture Park and was awarded the Abraaj prize, Art Dubai.
She has undertaken residencies in Italy, Philippines, Beirut, Bangkok and England.
Recent group exhibitions include Whitechapel Gallery, London (2023), Moody Centre for the Arts, Houston (2022), Wanas Konst, Sweden (2021) Yorkshire Sculpture Park, Wakefield (2021); The National Museum of Women in the Arts, Washington (2018); Frieze Sculpture Park, London (2018); Royal Academy of Arts, London (2018 and 2012); Kettle's Yard, Cambridge (2018 and 2016).
Begum's work is held in numerous private and public collections including the Ashmolean, Oxford; Government Art Collection, London; Arts Council Collection, London; British Council, London; Sainsbury Visual Art Centre, Norwich; Collection Pictet, Geneva; Simons Foundation; New York; Taubman Museum of Art, West Virginia; Coimbatore Centre for Contemporary Arts, India; Samdani Collection; Bangladesh; Farjam Collection, Dubai; Abraaj, Dubai and MONA, Tasmania.
Rana Begum lives and works in London, England. Begum is represented by Kate MacGarry and Cristea Roberts Gallery.
Supported by