Art in Practice: School of Creative Arts Alumni showcase
Gallery 1 – Fine Art
---
Discover the Artists

:
---

Alex Ayliffe
Edge, 2020
Acrylic on canvas
Limit, 2020
Oil on canvas
Alex Ayliffe's work explores boundaries, borders and edges, and questions how we interact with them. Responding to today's paradox of us being both more connected, yet subject to a host of physical barriers and emotional constraints, the paintings suggest how everything is connected, how everything contains everything else, and how boundaries and barriers shape our perception.
After graduating from Westminster University in 1983, Ayliffe pursued a full time career in illustration. Initially working for magazines and advertising companies, she later specialised in children's books. In 2017 Ayliffe enrolled to study MA in Fine Art at the University of Hertfordshire, determined to expand her artistic skills and knowledge. She now paints full time.
Website: alexayliffe.com
Instagram: @alex_ayliffe

Lil Cahill
Aspartame, 2017
Fibre glass
Pirouette, 2019
Jesmonite
Lil Cahill's practice explores representations of the body and the formation of taste, value and excess. She constructs a vocabulary of pictures and symbols associated with the handmade and mass-produced. The imagery originates from the artist's own fascination with foodstuffs, and the absurd and grotesque way in which they are advertised and then normalised once in our homes.
Cahill lives and works between Hertfordshire and London. Gaining her BA in Fine Art at the University of Hertfordshire in 2017, Cahill went on to graduate from the Royal College of Art with a Masters in Sculpture in 2019. Since graduating she has taken part in several exhibitions, for example at Standpoint Gallery and MK Gallery.
Website: lilcahill.co.uk
Instagram: @lilcahill104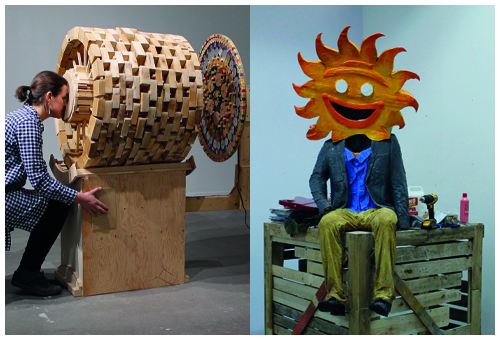 Robin-Dimitrije Gosselin-Monasevic
K-Scope 1, 2020
Mixed media
Mr Sun, 2017
Mixed media
Robin-Dimitrije Gosselin-Monasevic is a sculptor whose work explores identity, social pressure, influence, disillusionment, bewilderment and absurdity. These concepts are also manifested through theatrical performances, which reflect our day-to-day alienations, yet continuous perseverance, effort and want for understanding. His current work 'K-Scopes' is a series of large-scale interactive kaleidoscopes.
Gosselin-Monasevic graduated with BA(Hons) in Fine Art from the University of Hertfordshire in 2016 and went on to study MA Sculpture at the Royal College of Art in London. Based in Quebec, Canada, he is also a self-published author and recipient of the 2016 Peter Arnold Prize, and the 2017 Concours d'œuvres d'art' de Diffusion Culturelle.
Website: rdgm.online
Instagram: @robindgosselinmonasevic

Suman Gujral
Anthology, 2018
Etching on paper
Story, 2018
Etching on paper
Suman Gujral's practice meditates on universal issues of joy, sorrow, struggle and human resilience. Often addressing painful subjects, the artist uses her unique position to cast light on these difficult issues, generating discussion through her works. An interest in the interplay of light and shadow underpins Gujral's practice.
Gujral graduated with MA in Fine Art from the University of Hertfordshire in 2018, and is a fellow at Digswell Arts Trust. She has exhibited extensively locally and in London. Gujral's exhibition at St Albans Museum + Gallery (2018/19) explored the impact of traumatic events – current and historical – on individuals and communities.
Website: sumangujral.com
Instagram: @print_makerlady
Facebook: print_makerlady

Rydal Hanbury
Robert, 2017
Oil on canvas
Zo, 2018
Charcoal on paper
Rydal Hanbury's work focuses mainly on cityscapes and portraiture. She uses drawing as a means of "capturing the present moment in time within a defined area", exploring its narrative, claustrophobic and repetitive aspects, patterns and rhythms.
Hanbury graduated with BA(Hons) in Fine Art from the University of Hertfordshire in 2004 before going on to study MA level diploma in drawing at Princes Drawing School (now Royal Drawing School) in London. She also has a Diploma in Portraiture from Heatherley School of Fine Art. As well as exhibiting she has also taught and run workshops and lectures for the British Council, The Royal Drawing School and Central Saint Martins.
Website: rydalhanbury.com
Back to list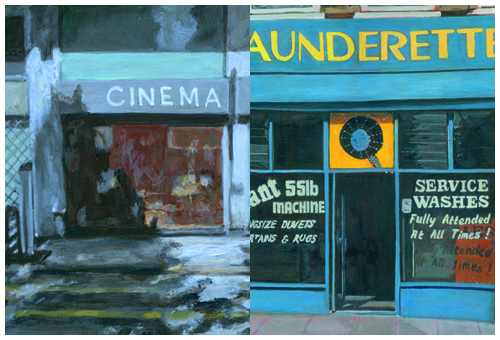 Michelle Heron
Cinema Palladio, Vincenza, 2020
Acrylic on gesso panel
Launderette, Sydenham, 2019
Acrylic on canvas
Michelle Heron is an urban landscape painter working primarily in acrylic. She is best known for her paintings that immortalise the many threatened independent shops which enliven our high streets. Heron's paintings have an almost vintage feel as if reminiscent of another time; a poignant view of the structures rapidly disappearing from our everyday. Heron's works have been compared to that of Edward Hopper and George Shaw for her sensitive use of light and colour.
Heron graduated with BA(Hons) in Fine Art from the University of Hertfordshire in 2002 and recently moved her practice from London to Italy where she paints full time. She has exhibited widely and was most recently shortlisted for The Jackson's Painting Prize (2020).
Website: michelleheron.co.uk
Instagram: @michelleheron.art
Twitter: @mheronart
Facebook: @mheronart

Alzbeta Jaresova
Position XXVI
Graphite on paper
Spatial Composition II, 2016
Plaster
Alzbeta Jaresova's practice is an exploration into architecture and the built environment as an embodiment of political, social and cultural values. Her work explores the psychological impact and phenomenology of the spaces we occupy.
Jaresova studied BFA in Painting and Drawing at Concordia University (Montreal, Canada) in 2009, spending her final year at the University of Hertfordshire as an International Exchange student where she was awarded her BA (Hons) in Fine Art. She went on to study MA in Fine Art at Camberwell and following her MA, received the inaugural Griffin Art Prize sponsored by Winsor & Newton which led to a six-month studio residency. She has exhibited in numerous art fairs, projects and group exhibitions in the UK and abroad and was a recipient of the Elizabeth Greenshields Foundation Grant for 2018/2019.
Website: jaresova.com
Instagram: @bettyjaresova
Twitter: @A_Jaresova

Josh Linder
Pink Lady on the Rye, 2019
Fuji film paper, pink foam, vinyl tape, hook
The Philosophy of a Potatoe, 2020
Mixed media on giant marshmallows
Josh Linder's works are carefully orchestrated together using acrylic paint, pencil, charcoal, found objects and cut-outs from his other artworks. He is interested in the painted surface and how we view it – how everything becomes either 'a still image' or 'a physical interaction'. Linder's practice explores different ways to apply mark-making to various surfaces, and how we as humans oscillate between different states of consciousness in our everyday actions.
Josh Linder graduated with BA(Hons) in Fine Art from the University of Hertfordshire in 2017 and is currently studying his postgraduate degree in Fine Art at the Royal College of Art, London.
Instagram: @joshesart

Diane Maclean
Mountain, 2005
Stainless steel, sound, light, photographs
Road Untravelled, 2019
Brushed polished stainless steel
Diane Maclean is a sculptor and environmental artist who often produces public sculptures and commissions in response to place or a set theme. Her works can take on many different forms but are connected by their use of materials and focus on light, colour and movement. Maclean is often inspired by the earth's elements and the shapes that occur within the natural environment.
Maclean has gained a BA (Hons) in Fine Art from the University of Hertfordshire and a BA (Hons) in Modern Languages from University College, London. She has exhibited extensively and has works in public collections nationally and internationally. Maclean's sculptures Mountain and Diabolo are a permanent part of the University of Hertfordshire Art Collection.
Website: dianemaclean.co.uk

Helena McGrath
Ghost in the Forest, 2019
Oil, charcoal and chalk on canvas
Soulbird, 2018
Oil, charcoal and chalk on canvas
Helena McGrath's paintings explore the apparent banalities of domestic suburban life and her dual role as mother and artist, informed by a range of material including found photographs, art historical sources, popular culture and text.
McGrath graduated with an MA in Fine Art from the University of Hertfordshire in 2017. In 2018 she had a solo show at The Pavillion Gallery, Chenies Manor, and in 2018/2019 completed an AA2A residency at University of Hertfordshire, during which she produced a series of works entitled "Äidinmaa" (Motherland) about her relationship to Finland. She has been a Visiting Lecturer at the University of Hertfordshire since 2019.
Website: helenamcgrath.com

Robbie O'Keeffe
Coffee Drinkers, 2020
Oil on wood
People on a Beach, 2017
Oil on mount board
Rooted in love of landscape and romanticism, Robbie O'Keeffe paints pulsating and vibrant scenes that emanate melancholic undertones, inspired by the spaces surrounding him. O'Keeffe describes his artistic style as 'visual music in which he builds layers of space and colourful harmonies within an image'. Although inspired by a sense of place, the artist's work often pull towards poetic, emotional notions.
O'Keeffe graduated with BA (Hons) in Fine Art from the University of Hertfordshire 2016. Based in a studio in Brixton, London, he exhibits regularly across the UK, most recently the Hertfordshire Open 2020 at St Albans Museum + Gallery and I'm a Soldier to my, Own Emptiness, I'm a Winner at Gallery North.
Website: robbieokeeffe.co.uk
Instagram: @robbie.okeeffe
Twitter: @robbiesok

Namik Ozturk
Sculptural Installation, 2016
Found wood, fabric and rope
Namik Ozturk uses contrasting materials for a visceral response – industrial timber, rods and ropes restrict the soft, domestic pillow trapped within them. A strong metaphor for private, personal experience struggling against the harsh global realities. Ozturk's work often comments on and raises questions about politics, religion, and global issues such as experiences associated with displacement within the migrant crisis.
Ozturk graduated with BA (Hons) in Fine Art from the University of Hertfordshire in 2016. He sadly passed away halfway through his postgraduate studies. This piece was generously donated to the University of Hertfordshire Art Collection by his family.

PIN Collective
A selection of works from the Moods 'n' Noods exhibition, 2020
Pin Collective is an art collective formed by EJ Montgomery, Lily Rankine, Holly Rose Jackson, Corinne Seymour, Lil Cahil and Bryan Ridpath. While studying Fine Art at the University of Hertfordshire they become close friends and developed a strong support network, which ultimately led to the formation of a collaborative art collective.
Since 2018 the collective has been involved in several group exhibitions, including Moods N Noods at MotionSickness Project Space, Cambridge and PIN Presents in Brick Lane, London. They also worked with the organisers of Free Range to develop a collaborative T-shirt collective for emerging artists, as a result of their University of Hertfordshire graduate exhibition at Truman Brewery.
Instagram: @pin_collective
Individual Artist's Instagram accounts:
EJ Montgomery: @creepyej
Corinne Seymour: @corinneseymour
Holly Rose Jackson: @hollyrosejackson
Lil Cahil: @lilcahill104
Lily Rankine: @earthlyjr
Bryan Ridpath: @bryanridpath

Mary Savva
Blue Aphrodite with Pink Hands, 2019
Oil on linen
Thinking of the Ocean, 2018
Oil on paper
Mary Savva is a Cypriot figurative painter living and working in London. Her recent work explores ideas of home, culture and identity. The artist combines imagery that has a connection to where she grew up and her current place of work, London, in an attempt to re-appropriate them in a wider context. By displacing images from their original source, they become a symbol of the artist herself acting as self-portraits.
Savva graduated with BA (Hons) in Fine Art from the University of Hertfordshire in 2014, before going on to study MA in Fine Art at the Slade School of Fine Art. In 2018 she completed a 3-month residency at Cheongju Art Studio in South Korea. Savva has exhibited extensively, most recently at The Auction Collective, London and Gloria Gallery, Nicosia, Cyprus.
Website: marysavva.com
Instagram: @_marysavva

Gwen SenHui Chen
Coming This Spring, A New Tomorrow, 2018-19
60 liquid bags on scaffolding, speakers, contact mics
The Living Riddle that Nobody Understands, 2018
Mixed media collage
Gwen SenHui Chen's practise is multidisciplinary, encouraging consumption of material in both digital and analogue format, from tactile sculptures to interactive performance-based video. Her works are often presented as responsive environments for the viewer to encounter by touching, reading, listening or seeing. The viewer takes an active role, transforming the artwork and leaving them in control. This contribution aims to separate the viewer from what is real, shifting them into an alternate reality.
SenHui Chen graduated with BA (Hons) in Fine Art from the University of Hertfordshire in 2019. Since graduating she has been involved in group exhibitions and joined the art collective PIN. She is currently in the planning stages of developing an artist-led workspace, with like-minded practitioners.
Website: gwens.online
Instagram: @bourge_g

Abi Spendlove
Edges, 2018
Paper, card, foamboard and acrylic
Standing Floor, 2020
Glass paints on acrylic in aluminium frame
Abi Spendlove is a mixed media artist working across sculpture, painting, drawing and textiles. The artist is interested in processes of transformation and is drawn to objects which are on the periphery, at the edge or disintegrating. Water and light act as regular elements in Spendlove's work, and her practice seeks to 'capture or reflect that which is moving or changing and cannot be fixed'.
Spendlove studied Fine Art at Byam Shaw and Central Saint Martins in London, before going on to complete her MA in Fine Art at the University of Hertfordshire in 2018. Spendlove recently completed a residency with the Hat Factory Arts Centre and has a solo show at Departure Lounge Gallery at the end of 2020.
Website: abispendlove.co.uk
Instagram: @abispendlove

Opper Zaman
I don't want it to be a God, 2018
Concrete, timber, hessian, rope, steel and papier mache
Opper Zaman is a multi-disciplinary artist who lives and works between London, UK and Dhaka, Bangladesh. Zaman's research explores displacements and complexities within structures of narratives. He works with sound, moving image and installation, creating experiences that challenge the ideas surrounding "belief systems".
Zaman graduated from the University of Hertfordshire in 2018 with BA (Hons) in Fine Art and has gone on to study MA Sculpture at the Royal College of Art. He has exhibited at Shunno Art Space, Bangladesh Shilpakala Academy, Old Truman Brewery and was Artist in residence at Standpoint Gallery in 2020.
Instagram: @opperzaman