Art in Practice: School of Creative Arts Alumni showcase
Gallery 4 – Photography
---
Discover the Photographers:
---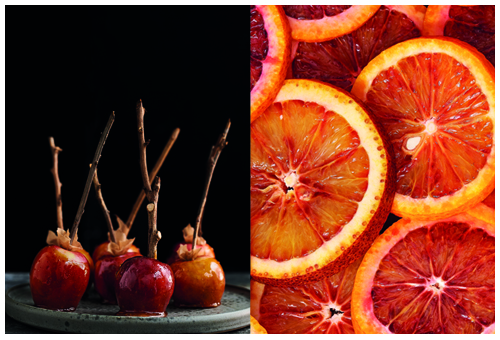 Rosie Alsop
Blood Orange, 2019
Toffee Apple, 2017
Rosie Alsop is a London based photographer, specialising in food photography. She graduated with BA (Hons) in Photography from the University of Hertfordshire in 2015. Since graduating, she has photographed alongside other photographers as well as working on her own shoots.
As an assistant photographer, Alsop has worked alongside a range of food companies, publishers and agencies on Editorial, Packaging, Public Relations, Restaurants and Advertising shoots. Recent clients include Slimming World, Eye to Eye Media, Marks and Spencer, Heinz and Butter Believe It and small restaurants.
Website: rosiealsopphotography.co.uk

Viktoria Bielawa
ÉKó 02 & 05, 2018
Not My Face, 2018
Viktoria Bielawa is a London based photographer and journalist with a focus on fashion and digital media. She is interested in sustainability and digital technologies, specifically how they affect the current state of our planet. The "ÉKó" work displayed in this exhibition was part of a collaborative project for 'Revolutionary Rebel' collection by designer Adesewa Adeniyi.
Bielawa graduated with BA (Hons) in Photography from the University of Hertfordshire in 2018 and currently studies a Masters Degree in Media Communications at University of the Arts London. Bielawa lived and studied in New York City from 2016-2017, where she also worked as a Fashion and Product Photographer for FashionDailyMag.com. She has previous experiences working for publications such as FIZZY Mag, as well as contributing writing to Huffington Post UK.
Website: viktoriabielawa.com
Instagram: @viktoriabielawa

Carl Bigmore
Diner worker, Fatboy's Diner, Trinity Buoy Wharf, London, 2019
Diner worker, OK Diner, A1, Grantham, 2018
Carl Bigmore is a London based photographer whose work focuses on place. Using a line from a song, a scene from a film or a poem by an author, Bigmore uses his camera in an attempt to make something honest. An icon of Americana and the scene of many great American fictions, the Diner holds a special place in our collective imagination. With a cinematic eye, Bigmore's series looks at the curious phenomenon of how the American Diner has sprung up in various locations across Britain.
Bigmore graduated with BA (Hons) in Photography from the University of Hertfordshire before going on to study an MA in Photojournalism and Documentary Photography at UAL, graduating in 2015. He has exhibited widely and received multiple awards while also working with commercial clients such as The Telegraph Magazine, Airbnb and Financial Times.
Website: carlbigmore.co.uk
Instagram: @CarlBigmore
Jamie Brett
Untitled, Austin, Texas, USA, 2016
Untitled, New York City, USA, 2016
Untitled, Van Horn, Texas, USA, 2016
Influenced by folk culture, ritual, national identity, club culture and nightlife, photographer Jamie Brett produces work which feels metaphysical, otherworldly and akin to a fever dream. He now shoots exclusively Medium Format 6x7 of 645 in portrait orientation as a result of his artist residency at the School of Visual Arts in New York in 2018.
Brett graduated with BA (Hons) in Photography from the University of Hertfordshire in 2013. Alongside his photographic practice Brett has worked with the founder of PYMCA, a small youth culture photography archive to reimagine the archive for the purpose of a museum. He is currently heading up the archives project which aims to build a museum of Youth Culture in the UK.
Instagram: @jamiebrettphoto
Twitter: @jamiebrett
Katie Lupton
Eastern Beauty, 2018
No Animals Were Harmed In The Making, 2017
Triplets, Holland Park, 2019
Katie Lupton is a London based fashion and portrait photographer, who creates content for brands, influencers, models and actors.
Lupton graduated with BA (Hons) in Photography from the University of Hertfordshire. Since graduating she has been developing her portfolio while producing e-commerce and branding imagery for larger companies. Lupton also runs regular workshops which assist students with navigating the photography industry, teaching them how to execute their own photoshoots, based on her unique knowledge from within the industry.
Website: www.katieluptonphoto.com
Instagram: @katieluptonphoto
Facebook: @katiieskapturesfashion
Ishana Minakshi
Hung Up, 2018
Inhale, 2015
To the Bone, 2017
From the first use of a camera Ishana Minakshi had a passion for photography and whilst at University developed her style into fine art photography. Inspired by fairy tales and nature, Minakshi explores what can be created from ordinary settings. Drawing from the natural environment she creates a variety of stories and narratives with the camera and in post-production.
Minakshi graduated with BA (Hons) in Photography from the University of Hertfordshire in 2017. She is currently working in retail, and assisting photographers in their projects whilst building up her own portfolio.
Instagram: @ishanaminakshiphoto
Facebook: @IshanaMinakshiPhotography

Peter Sterling
Stress, 2017
Tick Tock, 2017
Torn, 2017
Peter Sterling is a freelance photographer based in Hertfordshire who is mainly focused on corporate and educational events. Known for his cinematic and bold style, Sterling's commercial practice is heavily influenced by his background in fine art and film, which can be seen strongly in his exhibited series which makes reference to style of Salvador Dali. With a strong knowledge of advanced post-production techniques, his practice also expands to advertising and lifestyle commissions. Sterling graduated from the University of Hertfordshire with BA (Hons) in Photography in 2017.
Website: petersterlingphotography.com
Instagram: @petersterlingphotography
Facebook: @petersterlingphotography
Lotte Varcoe
Ij Hallen, Amsterdam, 2017
Student Container Housing Amsterdam North, 2017
Untitled, 2018
Lotte Varcoe is a Hungarian-British photographer based in Newcastle. Her practice focuses on social environments, photographing the lives of people in their natural habitats with a key emphasis on architectural and interior design. Varcoe adapts easily to new surroundings allowing her to build relationships and narratives with people from multiple cultures and backgrounds.
Varcoe graduated with BA (Hons) in Photography from the University of Hertfordshire in 2019, and went on to complete an MA in Creative and Cultural Industries Management at Northumbria University. During her MA she volunteered for Side Gallery working predominantly on Audience Development.
Website: lottevarcoe.portfoliobox.net
Instagram: @lottevarcoe