Visiting the Art Collection Online
Please visit our online database on eHive to get an overview of the Collection.
We hold regular events and exhibitions around the collection. At other times, tours can be arranged by contacting Annabel Lucas, Collections Manager and Exhibitions Curator.
The Story of the University of Hertfordshire Art Collection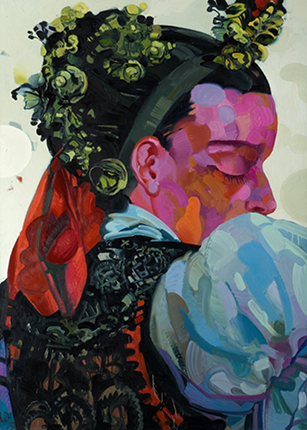 The University of Hertfordshire Art Collection is a rich and eclectic collection of over 500 works that bear witness to the University's history and development over the past 60 years. The collection was established in 1952 with 5 founding works by artists Reg Butler, Barbara Hepworth, Ben Nicholson and Trevor Tennant. It is a dispersed collection presented across the University's 2 campuses and other sites, integrating artworks with the internal architecture and defining outside public spaces.
In the late 1940s, Hertfordshire County Council pioneered a programme of constructing new schools and colleges. In parallel to construction bespoke contemporary artworks were commissioned for the sites, including sculptures by Henry Moore and murals by Kenneth Rowntree. Hatfield Technical College benefitted from this post-war investment and the inspirational educationalist John Newsome ensured that bespoke artworks were incorporated into the architecture of the college.
The University of Hertfordshire Art Collection has evolved over the decades in response to the changing institution; from technical college to polytechnic to university; the creation of the School of Creative Arts; an ambitious university-wide building programme; an ambitious contemporary art exhibition profile established by UH Galleries and a relationship with the Contemporary Art Society. The collection now boasts a portfolio of large outdoor sculptures, paintings, prints, drawings, photographs, textiles, ceramics and mixed-media.
Newsome's legacy continues to this day. The distinctive and growing UH Art Collection enhances the University environment by presenting modern and contemporary art in places where people study, work and visit. It seeks to inspire and provoke its viewers, offering starting-points for new conversations, to take the University community beyond the boundaries of chosen disciplines, specialisms and territories.
Visiting the Art Collection on foot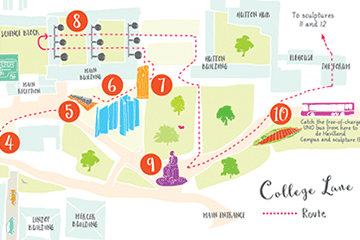 Outdoor sculptures
View an interactive map that shows how to visit the Art Collection Outdoor Sculpture Walk on foot
The 10 sculptures comprising the sculpture trail can be predominantly found on the College Lane campus, on the grass area in front of the Main Building. Highlights include work by:
John Farnham.
Barbara Hepworth.
Andy Goldsworthy.
Diane MacLean.
Indoor artworks
The 500 2-dimensional works are exhibited within publicly-accessible University buildings and usually clustered in small curated exhibitions. Please view the College Lane map (PDF - 0.56 Mb) to find key sites:
New Chapman Gallery
Location: First Floor, Main Building, College Lane campus.
This new gallery space is dedicated to showcasing the art collection.
More about the Chapman Gallery.
Chapman Gallery Lounge
Location: Ground Floor, Main Building, College Lane campus
Exhibition of recently acquired photographs and prints. Highlights include work by Sarah Jones, Jason Oddy, Lyndall Phelps, Augustin Rebetez and James Smith.
Health Research Building
Location: Stairs and landings, College Lane campus
A collection of works commissioned from staff of the School of Creative Arts that enhance the environment, while also seek to assist users of the building.
An installation of photographs encourage people to use the stairs by luring them up with a series of beautiful, yet surprising images.
The landing on each floor is identified by a different artwork to aid orientation.
Main space and Offices
Location: Ground and First Floors, Hutton Hub, College Lane campus
The building's vast orientation space is articulated with a series of bright, abstract canvases by former student James Broomfield. A large signature work by the same artist marks one's arrival in the space. Upstairs a further group of small works exploring colour and light lead visitors down the corridor.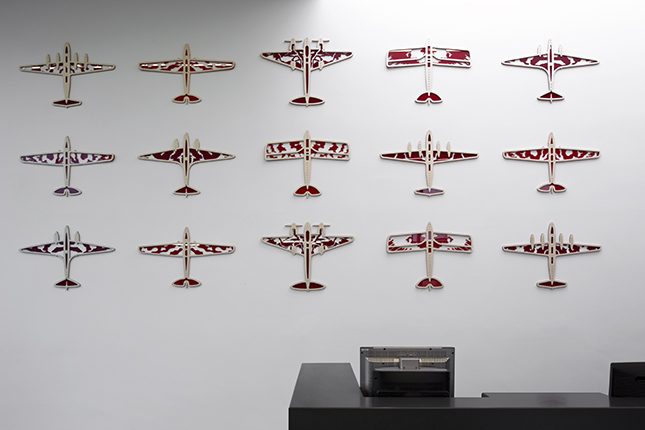 Reception Area and Atrium
Location: Ground Floor, Main Building, De Havilland campus
A selection of works on the theme of flight that reference the former use of the site by the De Havilland Aircraft Company, including works by Edmund Miller, Lyndall Phelps and Nick Yates.
Birch Engineering Student Sculpture Commission
Over the 6 years, the University of Hertfordshire has been privileged to work with Birch Engineering as the sponsors of a biannual student sculpture commission.
Birch Engineering is a specialist metal fabrication and component machining company, based locally in Ware, who fabricates sculptures for a number of successful sculptors. Every two years a UH students or recent alumni is selected from an open submission competition to design a new sculpture for the campus. The Birch team support the winning artist to realise an ambitious metal sculpture, from a proposed design on paper into a large 3D version. This valuable experience gives all applicants a taste of writing a proposal and weighing up artistic interest with health and safety concerns.
We are delighted that the third sculpture is soon to be fabricated with a launch planned for October 2016. Winning student Zoe Lynch's sculpture will be installed on the site for the new halls of residence, College Lane campus.
Applying for the fourth Birch Engineering Student Sculpture Commission
We plan to launch the fourth commission Winter 2016. We will post further information and an application form on this site later in the year.
It is open to all UH Fine Art and Contemporary Design Craft students (second and third years) and alumni of the School of Creative Arts (graduated in the last 3 years).
To register your interest please contact The UHArts Box Office.