Outreach Artist Project
Artists Sarah Evans is creating activities to accompany Krijn de Koning's new sculpture at The Gibberd Garden. She will focus her work on the interplay between Art, Architecture and Nature, themes which connect with Sir Fredrick Gibberd design and de Koning's new work.
..the idea was to blend houses and landscape to everyone's benefit, tree planting had high priority, sculpture was to make the arts an everyday experience.
Sir Fredrick Gibberd on the master plan for Harlow
Online workshops
Join us for two online workshops playing with collage to create new imaginative interventions in your home. These sessions will introduce you to the founding ideas for Harlow where nature and art were considered an essential aspect of the everyday experience. Hear about Sarah's art practice and how she uses these techniques in her work.
Tuesday 20 October, 16:00 – on Instagram live here
Tuesday 27 October, 16:00 – on Instagram live here
Get Creative: Activity Sheets to Download
Draw - Colour - Collage
If you are unable to go to The Gibberd Garden to see Krijn de Koning's installation before the end of October 2020, you can watch the online exhibition slideshow and get creative with the worksheets which Sarah has created below.
Artist's drawings inspired by the activity sheets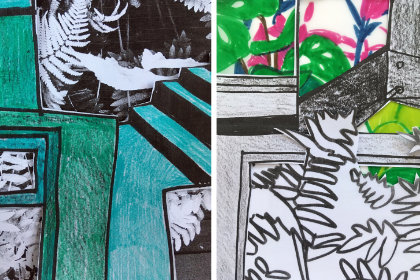 Sarah Evans' work is based in drawing in expanded forms using animation, moving image, collage, installation and events, with a focus on the process. Nature and landscape are recurring themes which capture narratives of human relations to the landscape. Evans constructs histories through interweaving fact and fictions. She is a founding member of artist-led Aid & Abet based in Cambridge. Aid & Abet tested its model over a number of territories, curatorial and collaborative practice through a variety of project spaces, residencies and commissions over the past decade. Evans has worked with CB1 Cambridge Development, Trust New Art - National Trust commission, NW Cambridge Development artist residency - University of Cambridge, Paper Gallery, Manchester and Market Gallery Huddersfield.
We would be grateful if you could complete the New Geographies survey. This survey will take approximately 2-3 minutes and helps the New Geographies consortium of organisations to gather feedback for the funder and to evaluate our projects. You do not need to give your name or email.
New Geographies is supported by Arts Council England's Ambition for Excellence strategic fund and lead by the ECVAN